Latest News
Next Auction
Details for the next auction will be posted here when available.

Details

Category: Past Auctions

IN THE MATTER OF BANKRUPTCY OF:
St. Louis & Freres Inc. Couvreurs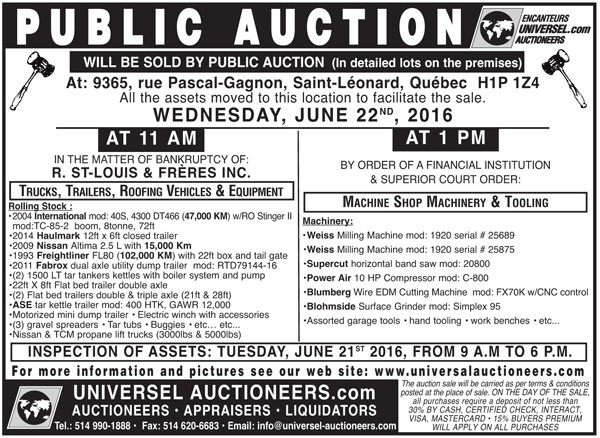 Auction details:
WILL BE SOLD BY PUBLIC AUCTION (In detailed lots on the premises)
At: 9365, rue Pascal-Gagnon, Saint-Léonard, Québec H1P 1Z4
All the assets moved to this location to facilitate the sale.
WEDNESDAY, JUNE 22ND, 2016
AT 11 AM

IN THE MATTER OF BANKRUPTCY OF:
R. ST-LOUIS & FRÈRES INC.

TRUCKS, TRAILERS, ROOFING VEHICLES & EQUIPMENT

Rolling Stock :
• 2004 International mod: 40S, 4300 DT466 (47,000 KM) w/RO Stinger II
mod:TC-85-2 boom, 8tonne, 72ft
• 2014 Haulmark 12ft x 6ft closed trailer
• 2009 Nissan Altima 2.5 L with 15,000 Km
• 1993 Freightliner FL80 (102,000 KM) with 22ft box and tail gate
• 2011 Fabrox dual axle utility dump trailer mod: RTD79144-16
• (2) 1500 LT tar tankers kettles with boiler system and pump
• 22ft X 8ft Flat bed trailer double axle
• (2) Flat bed trailers double & triple axle (21ft & 28ft)
• ASE tar kettle trailer mod: 400 HTK, GAWR 12,000
• Motorized mini dump trailer •  Electric winch with accessories
• (3) gravel spreaders • Tar tubs • Buggies • etc… etc...
• Nissan & TCM propane lift trucks (3000lbs & 5000lbs)

AT 1 PM

BY ORDER OF A FINANCIAL INSTITUTION & SUPERIOR COURT ORDER:

MACHINE SHOP MACHINERY & TOOLING

Machinery:
• Weiss Milling Machine mod: 1920 serial # 25689
• Weiss Milling Machine mod: 1920 serial # 25875
• Supercut horizontal band saw mod: 20800
• Power Air 10 HP Compressor mod: C-800
• Blumberg Wire EDM Cutting Machine mod: FX70K w/CNC control
• Blohmside Surface Grinder mod: Simplex 95
• Assorted garage tools • hand tooling • work benches •  etc...
INSPECTION OF ASSETS: TUESDAY, JUNE 21ST 2016, FROM 9 A.M TO 6 P.M.
Photos
Details

Category: Call for Tenders
Call for tenders
Sale By agreement By Court Order
Inspection by Appointment only
An information booklet will be available on site.
Detached Semi-Commercial Building located at:
2108-2110 chemin de Chambly,
Vieux Longueuil, Québec, J4J 3Y7
The officer reserves his right to refuse all offers.
Year of the building Construction: 1947
Many renovations realized since then.
Lot size: 3,467.05 square feet
Frontage: 111 square feet
Ground floor: 1,488 square feet
Apartment in basement: 1,488 square feet
Apartment on second floor: 1,488 square feet
Second floor terrace: 23x19 (437 square feet)
Total Area: 4,464.00 square feet
Information: (514) 990-1888
Photos

Details

Category: Past Auctions

PUBLIC AUCTION
IN THE MATTER OF BANKRUPTCY OF:


9124-7734 Québec Inc.
(D.B.A. : RESTAURANT L'ACADÉMIE)

WILL BE SOLD BY PUBLIC AUCTION (in detailed lots on the premises)

Au : 9365, Rue Pascal-Gagnon, Saint-Léonard, Québec, H1P 1Z4
All the assets moved to this location to facilitate the sale.

COMPLETE RESTAURANT FURNITURE & EQUIPMENT

THURSDAY, MAY 26, 2016 AT 11 AM

RESTAURANT FURNITURE & EQUIPMENT: (600) Restaurant tables (36"X36", 27"X30") & Chairs (fabric & vinyl) • (40) Terrace tables & chairs • Hobart S/S Comm. Dishwasher w/entry & exit & rinsing section • (3) Scotsman & Eurfrigo S/S comm. Ice machines • Spar Comm. Mixer w/accessories • S/S Commercial electric food steamer-cooker w/accessories • (5) Vulcan & Saturn S/S 8 & 6 burner gas stoves • (3) Vulcan S/S Gas & electric salamanders • Vulcan S/S Gas BBQ grill w/base • Saturn S/S 24'' Gas griddle • (4) Royal & FryMaster S/S Double gas & electric fryers • Zesto S/S Electric conveyor pizza oven • Anets S/S Comm. electric pasta cooker (2) Blodgett & Giorik S/S electric convection ovens • Hobart S/S Electric meat tenderizer • (2) Bertoldi's & Axis S/S Electric meat grinders • Hatco S/S Conveyor toaster • (3) Bertoldi's S/S Meat slicers • Salad Ace S/S Electric salad spinner • (8) Zesto S/S comm. refrigerated prep. counters 2, 3 & 4 doors • (2) S/S Refrigerated Buffet service counters 2 & 3 doors • (2) S/S 16 & 6 service warming tables • (3) S/S Prep. Counters w/integrated double & single sinks • (3) Refrigerated glass display counters 7', 8' & 16' • (4) S/S Dishware shelving counters 8' • (8) S/S Pass-throughs w/warmers • Zesto S/S 2 door refrigerated cabinet • True S/S 2 & 3 door mobile refrigerators • S/S 4 door mobile freezer • (6) S/S Work tables • Brute S/S Double proofer • (3) Pastry carts • (3) S/S comm. Double & single sinks • (3) Saeco Vienna Cappuccino/espresso machines • (2) Sharp S/S comm. Micro-wave ovens 1000W • (2) Cusinart & Bertoldi's Food processors • (4) Vollrath S/S Electric soup warmers • (4) Comm. Salad spinners • (15) Gas hoses • S/S comm. 100 cup Coffee Maker • (2) Safes • (44) Metal lockers • (15) Chrome Coat trees • (15) S/S Wall shelves • S/S Ventilation Hood • (4) Compressors • (40) Sect. Wire Shelving • Walk-in Cold room/freezer 10'X10'X8' w/compressor & evaporator • (2) P.O.S. Cash systems w/thermal printers • Too many items too list.

QUANTITY OF DISHES, GLASSES & CUTLERY FOR 500 PPL.: Plates • Large Plates • Platters • Bowls • Cups • Glasses • Qty. Of dining room cutlery etc. • Decanters • Coffee pots • Salt & pepper shakers • Wine & ice buckets • Etc.

INSPECTION OF ASSETS: WEDNESDAY, MAY 25, 2016, FROM 10 AM TO 6 PM
For more information & pictures see our website:www.universalauctioneers.com
UNIVERSEL-AUCTIONEERS.com
AUCTIONEERS • APPRAISERS • LIQUIDATORS
Telephone: 514-990-1888 • Fax: 514-620-6683
Email:

This email address is being protected from spambots. You need JavaScript enabled to view it.

The auction sale will be carried as per terms & conditions posted at the place of sale. ON THE DAY OF THE SALE, all purchases require a deposit of not less than 25%, BY CASH OR CERTIFIED CHECK. •15% BUYERS PREMIUM WILL APPLY ON ALL PURCHASES •

 

Photos