Latest News
Next Auction
Details for the next auction will be posted here when available.
---
Details

Category: Upcoming Auctions
IN THE MATTER OF BANKRUPTCY
& GOVERNEMENT SEIZURE # 540-02-029905-164
by order of Trustee & Gov't
WILL BE SOLD BY PUBLIC AUCTION (in detailed lots on the premises)
At: 9365, Rue Pascal-Gagnon, Saint-Leonard, Quebec, H1P 1Z4 All the assets moved to this location to facilitate the sale.
AUCTION DATE TO BE POSTED LATER
(100) OIL PAINTINGS & LITHOGRAPHIES
By renowned artists such as: Cosgrove • Gingras • Yves Joseph Nolet •
• André Roger • Roland Pichet • Bertouchesque • Narrich • Aniska • James W. Stewart •
• G. Rebry • C. Grimb • Niska • Bora • Faucher • G.E Miller Youst • Raphael •
• George Lambert • John Haymson • Prescott • etc, etc… •
ANTIQUE FURNITURE & COLLECTABLES:

1 MILLION, hockey, baseball & football cards etc…

Stamp collection, books & magazines etc, etc….
1966 Lincoln Continental (4)dr, automobile • 1977 Mercedes 450 SL convertible automobile • 2005 Cadillac XLR convertible •
INSPECTION OF ASSETS: TO BE POSTED LATER
For more information & pictures, See our web site: www.universalauctioneers.com
The auction sale will be carried as per terms & conditions posted at the place of sale. ON THE DAY OF THE SALE, all purchases require a deposit of not less than 30% BY CASH, CERTIFIED CHECK, INTERACT, VISA, MASTERCARD • 15% BUYERS PREMIUM WILL APPLY ON ALL PURCHASES • 18% BUYERS PREMIUM WILL APPLY ON ALL PURCHASES ON LINE •
UNIVERSEL-AUCTIONEERS.COM
• AUCTIONEERS • APPRAISERS • LIQUIDATORS •
Phone: 514-990-1888 • Fax: 514-620-6683 • Email: This email address is being protected from spambots. You need JavaScript enabled to view it.
Photos
Details

Category: Past Auctions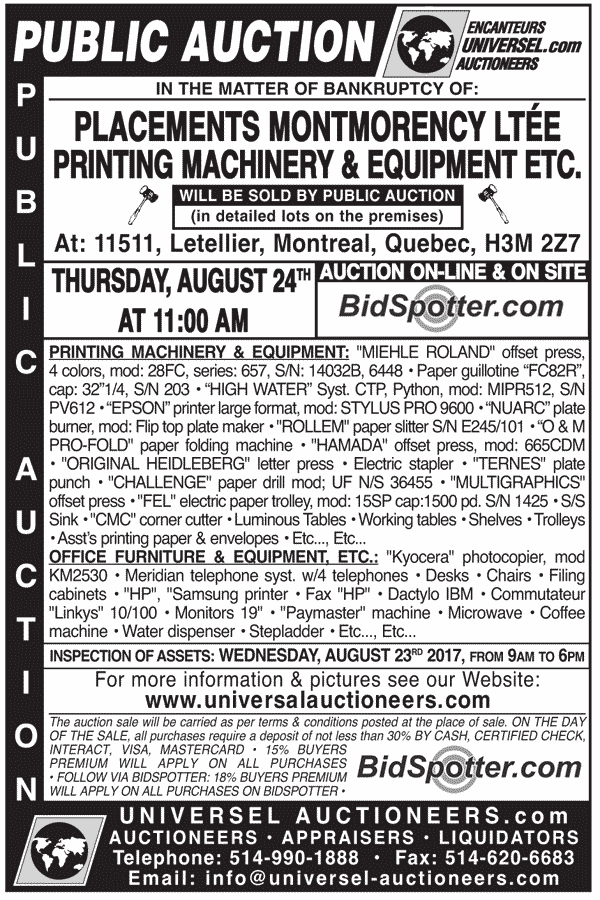 Photos
Details

Category: Past Auctions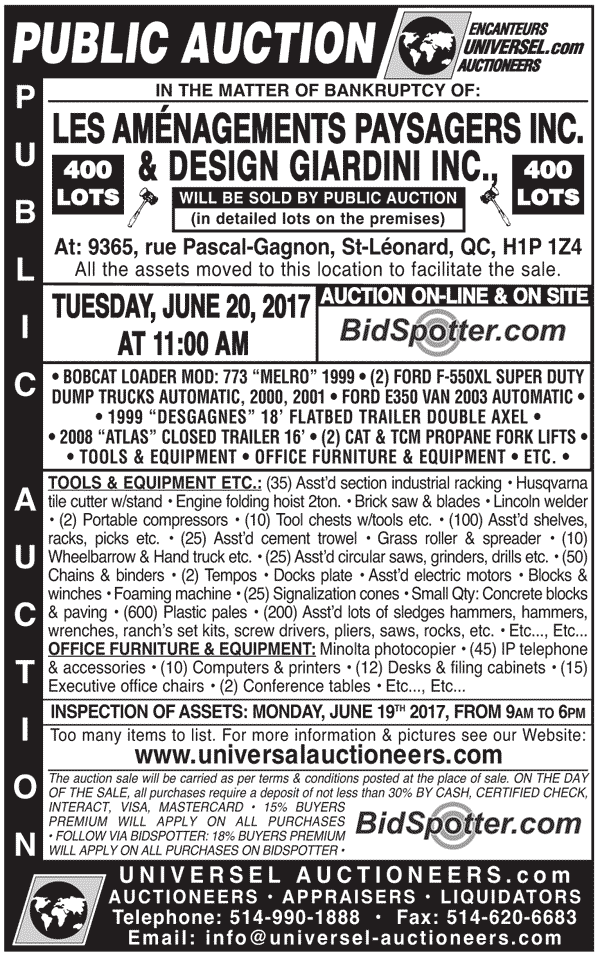 Photos
Rolling Stock

Office Equipment

General Tools & Equipment

Details

Category: Past Auctions

BANKRUPTCY AUCTION SALE: AMERICAN APPAREL Montreal HEAD OFFICE ASSETS
​Large qty. Computers (including 27" IMAC & all-in-one Intel Core i5 pc's), Color Laser Printers, MINOLTA Bizhub Color Copiers, Qty. Laser Printers, Qty. Flat-Screen Monitors, 55" & 40" TVs, CROWN & QSC Power Amplifiers, JBL Speakers, Phone Systems, Safes, Office Furniture & Equipment, Fridges, and much more!
​​LIVE & ONLINE AUCTION: Tuesday, MAY 30 - 10:30 AM
Auction sale location: 9365 Pascal-Gagnon, St-Leonard, Quebec H1P 1Z4
All assets were move to the current location to facilitate the Auction Sale
INSPECTION: May 29, 2017- 9AM to 6PM 

View on:

Photos
Details

Category: Past Auctions



Upcoming auction
2 Day auction  - February 15th and February 16th
Inspection of Assets - February 14th

In the matter of Bankruptcy of:
PLAISIRS  GLACÉS PRODUCTS INC.  /  LAMBERT INC.
Major manufacturer of milk products, Ice Cream, Frozen yoghurt and frozen log cakes
2121 46e avenue, Lachine, QC  H8T 2P1

For information call: (514) 990-1888 or email: iThis email address is being protected from spambots. You need JavaScript enabled to view it.
Details

Category: Past Auctions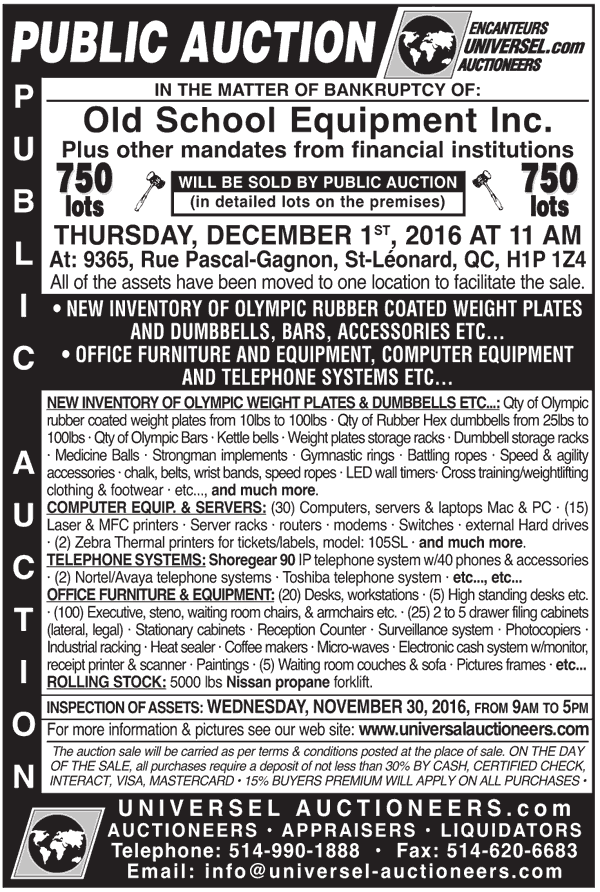 Photos